Infrastructure & Facility
Our Facilities
Ayushman Hospital has a unique combination of the best in class technology, put to use by the best names in the professional circles to ensure world-class health care to all patients. All ambulatory services have been designed with intent to create dedicated aides for all specialities, with their interventional services in close vicinity. From E A to the Imaging services, ICU to OT, Cathlab to CCU, OPD to Endoscopy or LDR to NICU, all the facilities are adjacent to each other. The modern infrastructure, pleasing environment, and strategic location of the Facility speak volumes about Ayushman Hospitals commitment to 'PASSION FOR HEALING'.
he hospital has 8 state-of-the-art well equipped modular operation theatres with three stage air filtration and gas scavenging system to ensure patient safety. All the Operation Theatres are fitted with best in class pendants, operating lights, anaesthesia work stations and advanced information management system.
The Hospital has one of the biggest critical care programmes in the region in different intensive care units viz Medical, Surgical, Cardiac, Paediatrics, Neonatology and Neurosciences. All critical care beds are in the close vicinity of the Operation Theatre complex for easy accessibility and continuity of care. Each Critical care unit is equipped with high end patient monitoring devices, ventilators and dedicated isolation rooms.
The Hospital has specialized birthing suites with telemetric foetal monitors to follow the progression of labor, and also the facility for the family to stay with the patient during the labor.
A dedicated operation theatre adjacent to the labour room helps in shortening the response time in case there is a need to conduct the delivery through surgical means.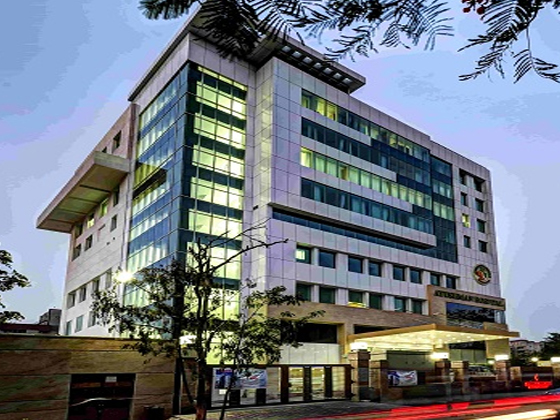 The Hospital's advanced Building Management System provides for multi-tiered access control, electronic security systems with integrated CCTVs spanning across the facility and advanced fire management system amongst other utilities.
The whole campus is Wi-Fi enabled, with the vision of the Hospital becoming the first truly paper-less healthcare facility in the country. Ayushman Hospital has top of the line Hospital Information System (HIS) system which is seemingly connected across outpatient, inpatient and diagnostic areas. The system has facility for contemporary electronic medical records (EMR) with remote-accessibility enabling ongoing consultation to patients from distance as well.