OPD Schedule
Our Consultant
Dr. Hemant Gandhi   – MBBS, MD(Medicine), DM(Cardiology)


Dr. Avinash Kumar   (Non – Invasive) – MD (Physician), PGDCC


Dr. Sanjay Sharma     (MBBS,MD)
Advanced Cardiac Services and Support

The cardiology team is highly trained with expert professionals in their field dedicated to treating heart diseases.
Since the last 15 years, Ayushman hospital has been the first center in Dwarka where cardiac patients were being attended. The new hospital at sector 10 boasts of the third generation state of the art cath labs, cardiac critical care unit, and ICU in support of our cardiac services. Our advanced and leading cardiothoracic centers make this hospital a preferred destination for all cardiac-related problems.
You are a new resident of Dwarka and quite unknown towards the different amenities provided by the Delhi government. The roads, medical facilities, and cuisine are completely new to you. Till now you are not aware of most of the medical facilities all around you. You are a patient of heart and therefore, you are in continuous need of a sound cardiology center, whereas a patient you can feel secure and free from any kind of tension. So, to accomplish this need you are hunting your internet for so many days but not getting any reliable assistance since the day of your shift to Dwarka. Don't worry your wish has been fulfilled and now you will be receiving the world's best cardiology support by getting in touch with Ayushman Hospital. Our clinic is one of the advanced medical centers in the world in terms of curing heart disease. The ultimate aim of contacting our center is to prevent any kind of heart ailment by identifying and curing the underlying factors related to it. Due to our services, we are counted in the topmost cardiologist in Delhi.
What is Invasive Cardiology?
Invasive cardiology uses open or minimally-invasive surgery to identify or treat structural or electrical abnormalities within the heart structure.
Common types of invasive cardiology:
Angioplasty

When plaque clogs your arteries, it becomes difficult for blood to flow normally. Angioplasty inserts a tiny balloon into your clogged vein and pushes the plaque against the walls, allowing for increased blood flow.

Stenting

Stenting is usually done in conjunction with angioplasty. A cardiac stent is a small metal coil that permanently holds a clogged vein open.
What is Non-Invasive Cardiology?
Non-invasive cardiology identifies heart problems without using any needles, fluids, or other instruments which are inserted into the body.
Non-invasive cardiologists utilize techniques such as:
Echocardiography

The usage of ultrasound waves to create images of the heart and surrounding structures in order to identify how well the heart pumps blood, infections, and structural abnormalities.

Cardiac electrophysiology
Study and testing of the electrical currents which generate heartbeats.
Stress tests

Stress testing usually involves exercise which is monitored by your cardiologist. These exercises provide your cardiologist information about how your heart performs under physical stress.

Heart monitors

Heart monitors may also be called a Holter monitor or cardiac event recorder. Heart monitors are essentially tape recorders for your heart's electrical activity over a set amount of time.

CT scans
CT scans produce images that your cardiologist can examine for heart disease and atherosclerosis.
Once your specialist has identified risk factors or existing conditions, they may recommend medication and lifestyle changes to improve your heart's health.
What is Interventional Cardiology?
What is invasive, non-invasive, and interventional cardiology? Interventional cardiology is a non-surgical option that uses a catheter – a small, flexible tube – to repair damaged or weakened vessels, narrowed arteries, or other affected parts of the heart structure.
Common conditions treated by interventional cardiology:
Coronary artery disease
A narrowing of the arteries which supply the heart muscle with blood and oxygen.
Heart valve disease
This occurs when the valves which control blood flow into the heart's chambers are not working correctly.
Peripheral vascular disease
Your heart can also be affected by clogged or hardened veins and arteries which are in other parts of your body.
Modernized services: We understand that the heart is an important organ of our body and to keep it healthy and safe is the primary duty of the professionals. So, as the best cardiologist in Dwarka, we at Ayushman offers a blend of modernised services that can make you live healthy by continuous monitoring of your heartbeat. So, as the foremost heart specialist in Dwarka, our centre is equipped with all modernized equipment. Hence, at the time of emergency or need our clients to come quickly to us in the form of getting a positive response.
Proficient in providing personalised cardiovascular medicines: If you are looking for the best cardiologist in Dwarka, then your search will definitely end with Ayushman Hospital. You may be thinking why it is so? Yes, we have established ourselves with the best cardiology centre in Dwarka due to various exclusive facilities provided by them to their clients. If you have any specific requirement then it becomes quite easy for us to make your evolving needs satisfied. What else to say we are counted as number one cardiologist centre of Dwarka due to our commitment and excellence of duty.
We at Ayushman Hospital feels an unflinching zeal to serve our patients in a perfect manner. We are committed to saving their lives and as a result, our professionals burn the midnight oil to attend the patients with due care and recognition. We are quite adroit in doing the genetic screening for the risk of heart attack and our professionals support us in our endeavours. Thus, it is quite an important milestone that sets us apart from our clients. As a cardiologist, we have established ourselves as the no.1 player in the Dwarka.
These are some of the exclusive specialities that set us apart from our competitors and we are able to serve them in the best manner.
Clinical Cardiac Electro Physiology
Cardio-geriatrics
Ecocardigraphy & DSE
Interventional Cardiology (Angiography & Stenting)
Preventive Cardiology & Cardiac Rehabilitation
Hypertension
Cardiac Arrhythmias
Congenital Heart Defects
Diseases of Blood Vessels
Holter Monitoring
TMT
24 hrs Ambulatory Monitoring
Our Team Of Experts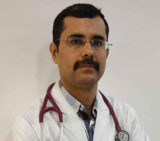 Dr. Hemant Gandhi
Cardiology
HOD - MD (Medicine), DM (Cardiology) FESC (Europe)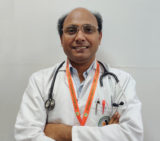 Dr. Avinash Kumar
Cardiology
Consultant - Non – Invasive Cardiology