Furnishing progressively an impeccable track record in providing outstanding healthcare facilities to the people of the entire capital city of India and especially the South- West Delhi incessant for the last 12 years, we announce with immense proud the launch of a new state of the art 150 bedded Multi & Super Specialty Hospital located at Sec – 10 in Dwarka, New Delhi. While possessing the most sophisticated technology and unsurpassable expertise across the entire spectrum of medical & surgical services we endeavor providing the most advanced services for the most affordable cost to as many as possible. This contains the finest combination of Medical, Surgical, Nursing and Technical support under the single roof.
Ayushman Hospital & Health Services is extremely passionate about delivering the apex standards of healthcare at competitive, accessible and affordable prices. We strive to achieve the best possible health results for our patients and community by integrating clinical practice followed by with latest research and education methodologies.
Apart from the basic specialties in the Medical & Surgical fields, the hospital tremendously provides super specialty additional services like Cardiac, Renal & Neuro Sciences along with Gastroenterology & Joint replacement. Marching on the path of continuous progress, we have successfully established a center of excellence too for Orthopedics, Gynecology, Obstetrics and IVF. As Critical care has always been crucial to a patient's recovery, we have introduced latest ICUs, CCUs & HDUs dedicated to all specialties, equipped with the best technology and are operated by highly qualified and well-experienced medical professionals.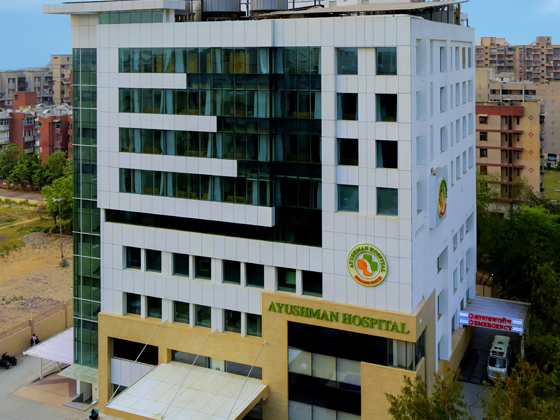 We are deeply committed to provide a patient friendly and safe environment based on the standards of NABH & JCI. The quality process is crucial for healthcare leaders to improve outcome and adapt to change as well as to deliver effective and high quality patient care. And thus, the entire team, keeping in view at the total futuristic reputation, better understands its responsibility for the sake of the whole mankind as well as for the best fame of the hospital.
OUR
AIM:
What does Ayushman Hospital & Health Services believe in?
Ayushman Hospital & Health Services believes, really and basically, in staunch working at the grass root level with patients and their families for their utmost health and financial benefits. We are strenuously adhered to our central theme i.e. is to bring out the supreme quality of advanced healthcare facilities equally for the entire human race and thus, must be affordable and accessible to all.
OUR
MISSION:
Achieving Professional Excellence in delivering Quality health Care applying latest technique and advanced medical devices.
Employing the most talented, experienced, certified health experts, doctors, surgeons, lab. Attendants, nurses, dieticians and other employees of high moral values.
Ensuring the best care with Integrity and Ethics.
Raise the benchmark of patient care through Research and Education.
Adherence for the National and Global Standards in Healthcare.
Provide Quality healthcare on the basis of 24*7 to all Sections of Society without any discrimination.
OUR
VISION::
Since its authentic inception, Ayushman Hospital & Health Services has solely aspired to be reckoned as the preferred destination and Partner the Community introducing a glorious and splendidly distinctive Healthcare hub for the whole community. We will endeavor to channelize our entire efforts vertex to on the three tenets of healthcare – Affordability, Accessibility and Quality.